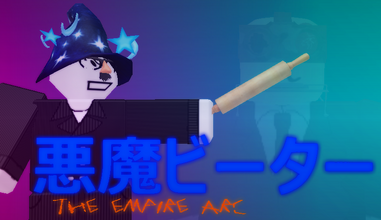 The Empire Arc was an upcoming collaborative event in Devil Beater. Created and written by DeadDang and Drager980 with additional help from darkkyraki, Komonoto, yeezed, inechi and HellaAric.
After having been stuck in development hell for a few months. the Empire Arc was officially declared to be cancelled by DeadDang on September 4th, 2016.
Characters
Aside from focusing on Team Varia and a few interns, the Empire Arc was to serve as the introduction of a new faction called the Pocket Dimension and several new characters. As of the date of its cancellation, nine Empire Arc characters had been confirmed:
Deadfu-Lite
Komo Noto
Mindy
Robot Foe
Gallery/Leaks
Ad blocker interference detected!
Wikia is a free-to-use site that makes money from advertising. We have a modified experience for viewers using ad blockers

Wikia is not accessible if you've made further modifications. Remove the custom ad blocker rule(s) and the page will load as expected.